Back to all posts
Posted on
REGISTRATION NOW OPEN!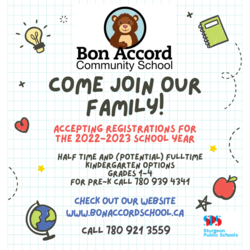 Come and join our BACS family! 
We are accepting registrations for all grade levels at our school for the 2022-2023 school year! 
Come to learn and grow in a warm and welcoming community school where our students love learning and growing together!  We are also exploring the possibility of full time Kindergarten, so please email the Principal, Kessia Brenneis, at kessia.brenneis@sturgeon.ab.ca to express your interest.  Priority will be given to Bon Accord Resident students with potential for non-resident Kindergarten students to enroll if there is space. 
To register for any grade level please go to https://www.bonaccordschool.ca/registration and complete the necessary forms. 
If you have any questions, please do not hesitate to contact us at the school, 780 921 3559.