Back to all posts
Posted on
BACS SCHOOL CLOTHING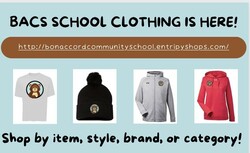 We have partnered with Entripy.com, Canada's leader in custom apparel, and set up an online spirit wear shop to help students show their school spirit!
Our school's online shop features dozens of items-from t-shirts, to hooded sweatshirts, jackets, toques and even bags from name brands. Shopping is easy and convenient. You can order as few as one item, choose from a selection of pre-approved school logos, and even personalize with your child's name.
Entripy provides a 10% REBATE on Bon Accord Community School shop sales back to our school.
You can order at any time and the clothing is shipped directly to your door!